Well, it's been a while since I posted about the metamorphosis taking place on our front lawn and I thought I'd finally give you guys an update so you can see how it turned out. One thing we did learn is: this was hard work, much more physically demanding than we anticipated. Luckily Pamela and I are still young bucks (at least we think so) so we were able to recover every week and keep going the following weekend.
Please check out the previous posts here and here to see how we started.
Anyway, enough of the small talk, let's get to the pics:
Full lawn area is covered in plastic. We left it like this for 4 weeks just to make sure weeds were nice and dead.
We started planting near the house first. These are pennisetums with black mulch.
Blue Fescue planted next to driveway
Here we started doing the walkway. There will be a concrete wall, gate, and planter that we plan to do next year.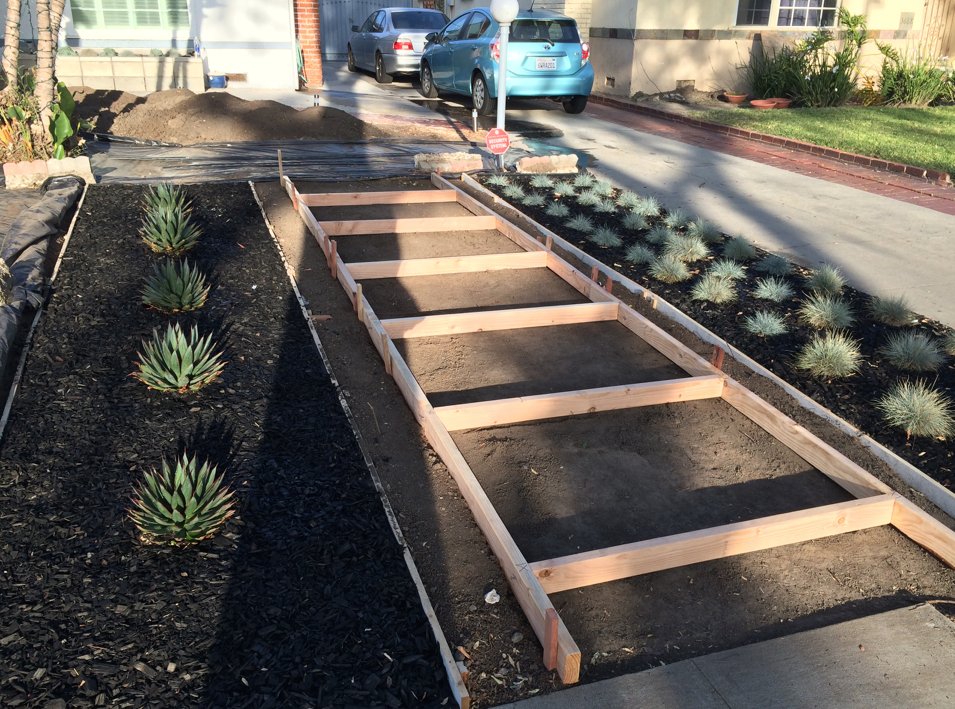 At first, we were going to pour our walkway out of concrete. We found a better (and less labor intensive) option later.
We built a raised bed pattern, although they are technically one. It just looks that way because we used different size lumber.
We decided to buy preformed concrete pavers ($14 each) for the walkway. Here we've put down fabric before putting down a bed of gravel and sand.
The gravel, decomposed granite, and sand has arrived. This was grueling work. Definitely had a cold beer at the end of this long day.
Spreading DG, sand, and putting in plants.
Another view of the walkway.
We put in some solar lighting for evening walkway illumination. $20 for 4 on Amazon.
For those of you wondering, we spent about $2,400 on the entire job. This is purely for materials since we did all the work. Luckily, with LA's Lawn Replacement rebate, we made the money back and essentially did this entire job for $200! (Rebate is $2 / SF and we did about 1,100 SF).
EDIT: As of July 2014, the rebate the City of LA now gives is $3 / SF!
EDIT: As of Nov 5, 2014, now the rebate is $3.75!! Almost double when I did it just a few months ago.